White Signature basket
Delivery in Moscow: 4 hours interval – from 400 rubles.
To the exact time – from 800 rubles.
Pickup – free
Learn more
Description
White basket is made with main white, cream, light peach, pink and green flowers. It is always the most gentle and light basket in a signature collection.


Sizes
M: about 40cm
L: about 45cm
XL: about 50cm
2XL: about 60cm
3XL: about 70cm
4XL: about 80-90 cm
5XL: about 90-100 cm
6XL: about 100-120 cm

This is approximate size. Each bouquet is individual and sizes may vary.

Will my bouquet be exactly the same as in the photo?
Baskets named by the colours are not repeated. They are created from the freshest, seasonal and finest flowers available at the time of order. Pay attention to the photos of the works already performed in our workshop - all the bouquets are very different from each other. Bouquets differ not only in composition, but also in mood, shape, volume, brightness, contrast, additional shades can be used in them. The only thing that unites them is the dominant colour, after which they are named.

Choose bouquets from this series only if you completely trust the florist's taste and you just need a beautiful bouquet in a certain colour.

A basket can vary by a color or shape as well.
Bonuses for each bouquet
3% when registering on the site
5% purchase amount from 30,000 rubles
7% purchase amount from 50,000 rubles
10% purchase amount from 100,000 rubles
Learn more
HOW DO WE SEND BASKETS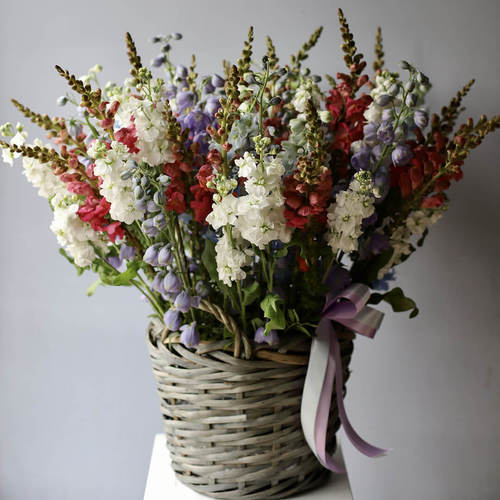 We'll send you a photo of your flower basket before the delivery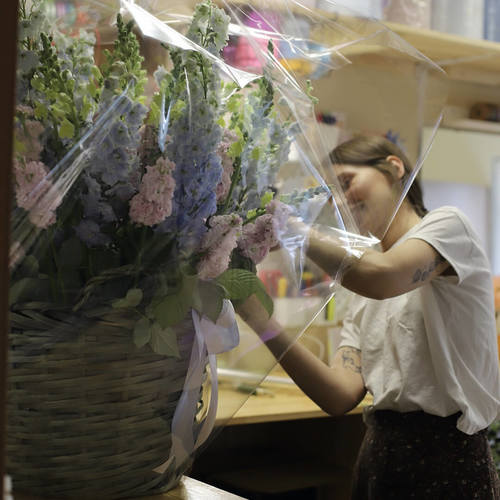 Basket is carefully packed to paper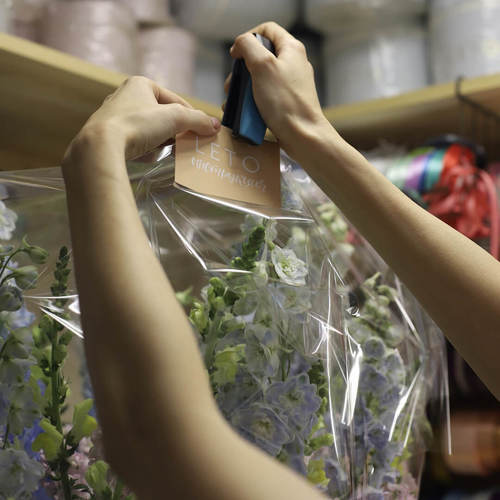 We add instructions
Bonus program: bonuses are awarded for every purchase.
Debit rate: 1 bonus = 1 ruble, purchase bonuses active time: 1 year
You can pay up to 50% of the cost of the bouquet
Accrual rate: 3% of the purchase price accrued to all registered users by default
How to increase the percentage of bonus accrual?
The total cost of bouquets and flower arrangements *,
purchased in the last 1 year
% bonus accrual
from 30,000 to 50,000 rubles
5%
from 50,000 to 100,000 rubles
7%
from 100,000 rubles
10%
How else to get bonuses?
Recommend the service to friends (referral program) - 500 bonuses to each
Feedback on the purchased bouquet - 200 bonuses
Interval delivery

Delivery time

Inside MKAD


Outside the Moscow Ring Road **



Mytishchi, Krasnogorsk,
Khimki ***

Odintsovo, Lapino,
Gorki-2 ***


6.00-

24.00

400 *

600 *

1300




1700




24.00-6.00

2000

2200

2800

3200
Interval delivery - 4 hour interval, for example, from 18.00 to 22.00
* Free delivery within walking distance from the subway for orders from 10,000 rubles
** Outside the Moscow Ring Road within walking distance from the subway (no more than 15 minutes)
*** We also deliver to Moscow region. To find out the exact cost of delivery to your address, type in the address and delivery time when placing an order
Delivery by exact time
Delivery time

Inside the Moscow Ring Road

Outside the Moscow Ring Road, 15 min.
from subway


7.00-

9.00

1500

1900

9.00-22.00

800 *

1200 *

22.00-24.00

1500

1900

24.00-7.00

3000

3400
* Free delivery within walking distance from the subway for orders from 15,000 rubles
When placing an order in the basket, you can choose the option of cashless payment. We accept
Visa, Master Card, American Express
.
If you are a company, upon request by e-mail hello@letoflowers.ru we will make an invoice for payment by bank transfer, and then send you all the closing documents.

| | |
| --- | --- |
| | Similar |
| | White |
| | All year round |
| | Basket |
| | Anniversary |
| | For favorite |
1. The basket is packed to paper. Remove paper, put the box on a clean dry place.
2. There is a floristic sponge with water in a box. The sponge must be always wet.
3. Flowers are gentle and moody. Please don't put them in the draught, heat, cold and near fruit.
4. It's necessary to add some water each couple of days. Find the center of an arrangement and put some water between flowers. We careful - don't wet petals.